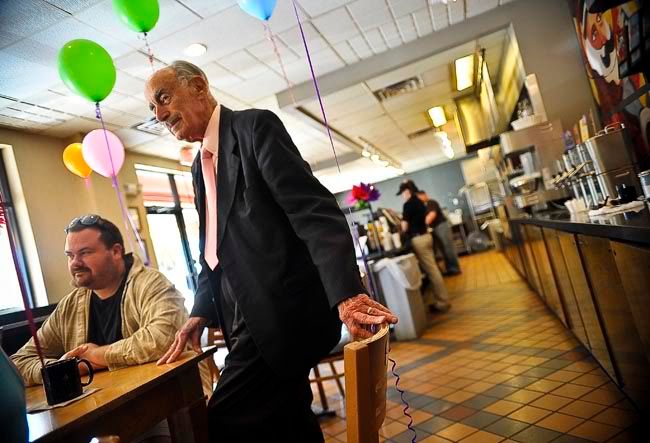 My husband and I have been going to Einsteins Bros Bagels since we met. It's right across the street from where he works, the people who work there were friendly, and there's Ray.
Ray Kasper is one of those local characters who you know even if you don't actually know him. He's always in Einsteins with his wife, his nephew, a friend, a new acquaintance or maybe just himself. He always has his own mug, sits in the chair with the plaque on the back that the store gave him, may have one of his books of poetry out on the table in front of him, and always sits at the largest table. Ray doesn't do this to take the space, but to invite others to sit with them. He may tell them a joke or start a game with a bored child at a nearby seat, but he's always friendly.
And he's been doing this for more than a decade.
I've met Ray and chatted with him numerous times, but Tuesday, the very last day that the store would be open, I got to shoot Ray for the paper. Hearing his story and getting to know who he actually was made me think of the people we see every day that you know but don't really know, and how lucky we are, even in this trying time for our business and industry, to get the chance to hear the stories, happenings and moments of the characters around us.
Definitely worth it.
I asked the same question many asked him, "So Ray... where do you go from here?" He's not quite sure yet.
Maybe Chick-Fil-A.
Maybe somewhere else.
But it has to have a few things: good coffee, be a clean place, and have nice people who work there.
I don't know where he'll end up, but I'll be interested in tracking him down. And see what characters he brings with him.